Very bright double bedroom with attached bathroom.
Full access to the beautiful Yatachhen's kitchen, living room and roof terrace.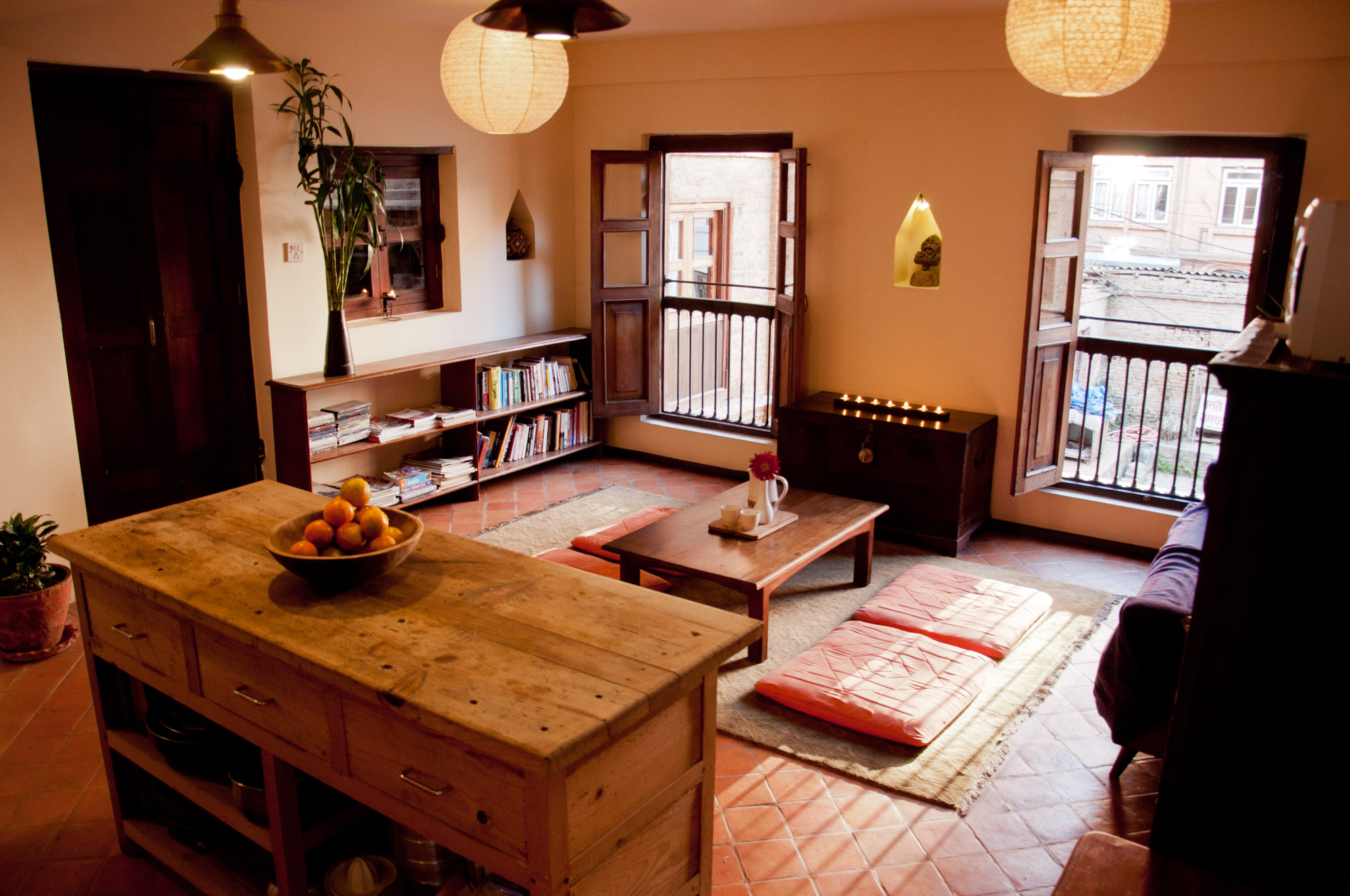 Rates
• 55 USD/day
• 330 USD/week
• Extra bed: 15 USD/day
Prices are subject to 13% vat
Infos
Type : Independent Room
Neighbourhood : Old Patan – Swotha Square
Volume : 22 m²
Accommodates : 2/3
Bedroom(s) : 1
Bathroom(s) : 1
Kitchen : Yes (common)
Roof terrace : Yes (common)
Features
• Earthquake resistant home
• Attached bathroom with shower and WC. • Hot water from storage geyser
• Hair dryer
• In-room coffee/tea set
• Bathroom amenities:
shampoo/conditioner/body lotion
• Specially designed guide book of the area
• Access to roof terrace
• Common kitchen/living room to chill or
cook your meals
• Access to a washing machine
• Air Conditioning when city-line electricity
• Electricity backup for all-day power supply
• Optical fibre WIFI
• Free set of towels and linens changed
every week
• Daily cleaning
• Shuttle Service from airport (15 USD day
fare/ 20 USD night fare)
Location
• Located inside Yatachhen house, a beautiful
conservation project of Newari architecture
• Situated in the heart of Patan historical city center
(Swotha Square)
• Quietly nested inside a courtyard (no noise from the
road!)
• Less than 100m away from Durbar Square and the
Golden Temple
• 500m away from Patan Doka (Patan's gate)
• 20 min walk away from Pulchowk, U.N. House, Sanepa
area, Kupondole area
• 15 min ride to Thamel
• 20/25 min ride to the international airport
• 10 min walk to Lagankhel and Patan Dohka bus station
• Taxis available in Durbar Square and Patan Dohka at all
time of the day and night.
The Old Patan is a fantastic area to stay in as it is still very authentic and traditional. There are many hidden treasure to discover: hindu temples, Buddhist stupas, courtyard, secret paths, monasteries, local food spots…
The vibrant local life of the Newars (the original ethnic group of the Kathmandu Valley) guarantees you a very rich cultural experience!
Cosy and lovely
"Cosy Nepal is absolutely wonderful, and was, without a doubt, one of the best experiences I have had. To begin with, the room is absolutely beautiful. It is so light and airy, with lots of additional little touches to make it feel really homely. I loved how environmentally friendly the hotel is: They give you shampoo/conditioner soap bars (rather than plastic containers) and provide free water-refills (rather than giving you new plastic bottles daily). They also keep the room sparkly clean, but do not indulge in the wasteful tendency of washing towels / bed-sheets every day. In the room, there is a little booklet with advice on where to eat, what to see, where to find the local buses, and even recommendations of where to go for a great a massage or haircut! Cosy Nepal is situated in an amazing area of Patan, with abundant cafes and restaurants - not to mention the beautiful Patan Durbar Square around the corner - literally! It's also very easy to hail down a taxi. Finally, the warm reception and friendly and helpful tips was invaluable. Thank you for the amazing stay! I look forward to being back :) Warmest wishes, "
— Philippa, USA,
Perfect location
"The home is part of a beautiful Newari family home complex in Patan. The wing that guests stay in is newer, but retain the feeling of the rest. Another part of the complex includes a wing that is over 400 years old. I deeply appreciated the cosyness of the room and the whole house, the appreciation and mindfulness of environmental concerns yet access to electricity and warm water in a city where those are super unreliable. It was wonderful to have such a place to land in Nepal, to be able to cook, and get re-oriented. The price is very much worth it!"
— Kristen, USA